11 Aug 2016
Learn SoapUI testing by automating a dummy application
SoapUI download / installation Process:-
Click on the second link appeared in the google search
Click on "Download open source" link
Once the executable file download to the system, page will display with instruction to install SoapUI via downloaded exe file.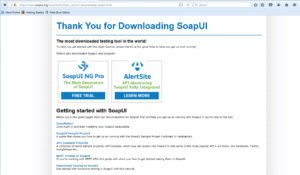 Once downloading and installation of Latest version of SoapUI completes:-
Go to the desktop and click on the SoapUI icon
Once the SoapUI opens , click on FileàNew Soap Project
A pop window appears on the screen (Screenshot #1)
4. Popup window has 2 text field which needs to be filled
4.1) Project name: – the name should be given as per our convenience & should be           understandable
4.2) Initial WSDL: – any WSDL URL (WSDL: Web services Description Language; pronounced as "Wizdull") which need to be imported for testing of web service.
E.g.:- http://test.com/testWS/qa.asmx?WSDL
Note: – URL mentioned is just for an idea .WSDL can be get from developer team as QA do not need to know much inside about this URL
5. After entering the above necessary details , click on Ok button
6. The project will be displayed (Screenshot #2)
The details about the component displayed are as follows:-
Project name (given in step #4.1)
Entry point (present in the WSDL )
Methods
Soap Request (is an XML document i.e. Extensible Mark-up Language) which will fetch the details
When we click on Soap Request , Request window opens , the details are :-

pan contains XML request where we will pass the parameter for which we need to fetch the details via WSDL
Right pan is for response of request
Green button is for submitting the request
Details of XML request elements:-
1

2

3

4

5

6

7

8

9

10

11

12

13

14

15

16

17

18

<

soapenv

:

Envelope

xmlns

:

soapenv

=

"http://schemas.xmlsoap.org/soap/envelope/"

xmlns

:

weat

=

"http://ws.cdyne.com/WeatherWS/"

>

Envelope

:

-

element

that

identifies

the

XML

document

as

a

SOAP

message

<

soapenv

:

Header

/

>

element

that

contains

header

information

Header

:

-

element

that

contains

header

information

Body

:

-

element

that

contains

call

and

response

information

<

weat

:

GetCityForecastByZIP

>

<

weat

:

ZIP

>

?

<

/

weat

:

ZIP

>

--

-

Here

Parameter

i

.

e

.

zip

code

should

be

passed

<

/

weat

:

GetCityForecastByZIP

>
Comments